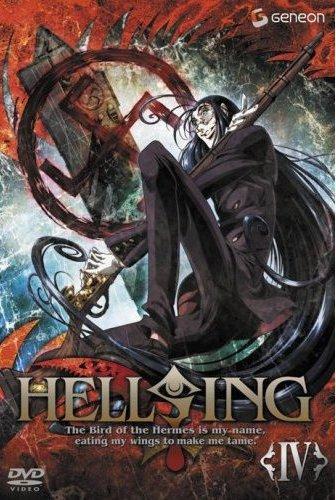 Operating in modern-day London, the Hellsing Organization is dedicated to ridding England of the scourge of vampires. However, the principle weapon of this organization just happens to be a vampire himself Alucard, who serves the organization's young leader, the iron willed woman Sir Integra Wingates Hellsing, as well as Alucard's new apprentice, a young vampire woman named Seras Victoria. Lately, a rash of artificially created vampires has taken the organization by surprise. As it turns out, a Neo Nazi society known as the "Millennium Order" is responsible for creating these vampires. Their sole purpose… to achieve what Nazi Germany couldn't do over 60 years ago with human soldiers… the total conquest of the world!
Hellsing Ultimate OVA 4 starts off as Hellsing and the Vatican hold a meeting with Her Majesty the Queen of England, their conference is interrupted by a message from The Major and his associates citing their intentions to wage war on England. Meanwhile, a VTOL aircraft carrier called the Eagle gets hijacked by Millennium. Integra decides to send Alucard to deal with the perpetrators and their leader, Rip Van Winkle. More...

Pass: www.cinedroom.com
First 3 OVA's you can find HERE !!!