Reportedly the children of a feminist lesbian mother, Shane and Sia began modelling at the age of seven when they posed for a layout in the Sears mail-order catalog. Their adult career has spanned fashion, softcore, and pin-up modeling. After the success of their 1993 calendar released by Topps, Shane and Sia published a premium-rate telephone number called the Barbi Hotline. In addition to the calendar, Topps also published two comic books and a promotional trading card depicting Shane and Sia. Though the pair's appearance has led to suggestions of plastic surgery enhancement—the British newspaper the Evening Standard described them as "bizarre distortions of the classical female form with their identical tiny waists, long athletic legs and 38D chests"— the Barbis have maintained that they have never undergone any surgical refinements.
Shane and Sia posed together in two top-selling issues of Playboy, and also in several internationally-distributed calendars. Not long after their Playboy days, they made a foray into voice acting, with several cameo appearances as brunette scientists in the American animated series Eek! The Cat. They also modeled for the fashioned designers Thierry Mugler and John Galliano.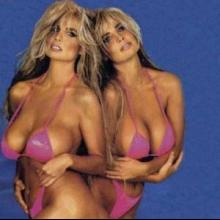 As adults, the twins developed bulimia, which they have since overcome. Their book, Dying To Be Healthy: A Breakthrough Diet, Nutrition and Self Help Guide (1999), tells the story of their struggles with eating disorders. A portion of the book's profits benefit organizations that strive to combat eating disorders. In the 2000s, Shane and Sia lectured and spoke on television, radio, and online about eating disorders and their careers. In early 2001, they appeared on the CBS television program 48 Hours in a piece about eating disorders, entitled "Slim Chance". After the program aired, CBS hosted a moderated online chat session in which the twins responded to questions from the public.
Download
gallery
or
PDF